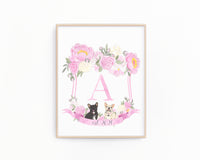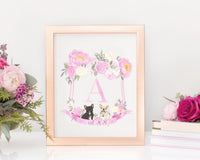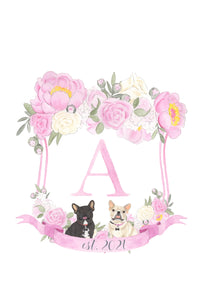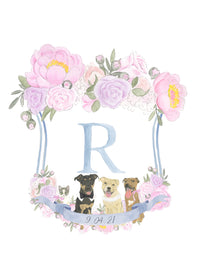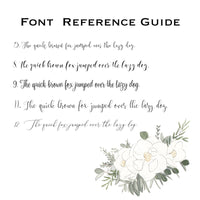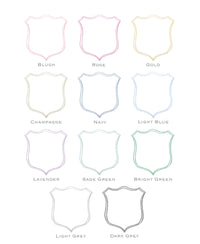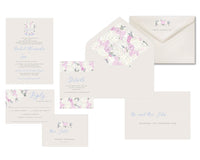 Custom Family Crest Fine Art Print (Peonies)
Watercolor family crests are gorgeously filled with blooms and a delicate banner for celebrating an extra special date or name. I am able to add pops of color within the flowers or heraldry to better suit your color scheme. Add your married initial or your first initials depending on when this will be displayed within your celebration. Let the flowers take the stage or add your fur babies for that added personal touch! 

These are printed on luxuriously textured, cold pressed paper in archival ink. They're truly pieces to cherish for generations to come. I love giving these as gifts for engagements, showers, weddings, and anniversaries. They're also an elegant addition to your day-of wedding details!
For a look at the 100+ dog, cat, and horse designs I have available, click here! If you don't see your animal represented or would like to order a custom painting, click here to add one to your order. 

I can also create a crest using a painting of your bridal bouquet! Click here to add one to your order.
Please allow 1-2 weeks to print and ship your crest. 
I am able to partner with a wedding stationer to incorporate elements of these designs through your wedding invite suite! To inquire, send me an email! 
Printing: All of my designs are protected by federal copyright laws, but I am happy to grant rights to print for personal use! I love cheering on my fellow tech savvy DIY'ers! If you're up for playing around with printed goodies or using my works in your blog, website, or wedding printable details, please add this agreement to your order. 

I love working with clients to bring their visions to life! If you have any questions about the process or would like to pick my brain, please do not hesitate to email me!