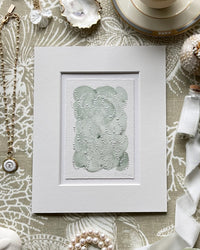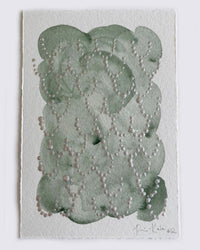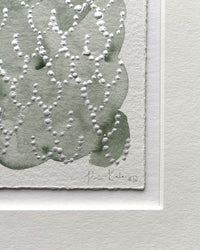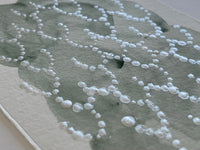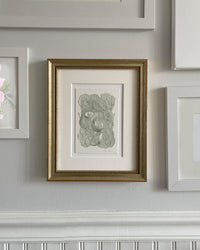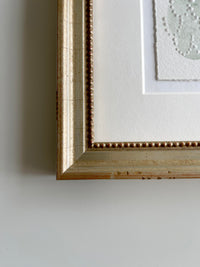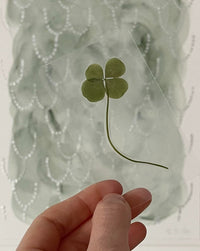 8x10" Good Fortune - #12
May the beholder have good fortune!
The twelfth piece in this series has been carefully crafted with hopeful intentions to manifest the most favorable, desirable outcomes. Dripping with symbolism, watercolor and acrylic paint are infused with sustainably sourced, freshwater pearls and painted on luxurious cotton paper with deckled edge.  
Pearls are formed when a foreign body enters a mollusk and disrupts its natural state of being. The mollusk then works to build a barrier around the irritant, thus creating the beautiful gem that many societies have hailed for generations as a symbol of fertility and good fortune over obstacles. As the saying goes, "No grit, no pearl!" The color green is believed to represent health, growth, prosperity, progress, generosity, hope, and balance among other traits. For extra juju, your painting includes a four leaf clover, harvested and hand pressed in Michigan! 
The actual painting size is approximately 4x6". To best showcase the fine details of these paintings, I have matted them! They will fit an 8x10" frame. TYou may have yours framed however you wish (I have a framing and hanging guide here), or I offer framing services out of my home studio. Click here to have your painting framed!
All of my paintings are hand wrapped and shipped from Chicago in recyclable or biodegradable packaging. I take the utmost care in protecting your investment with either UPS or USPS Priority Mail. I offer FREE SHIPPING anywhere within the continental US. Please allow up to five days for shipping paintings. If purchasing one of my frames, please allow up to three weeks as these are made to order.