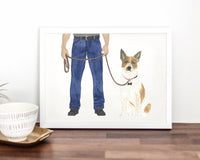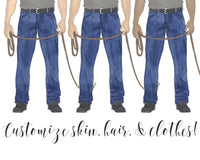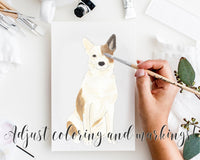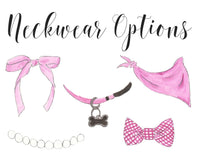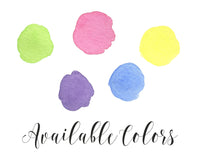 Custom Cattledog Heeler (Red & White) Dog Dad Fine Art Print
High quality prints make the perfect addition to any bookshelf, table, or corner that could use brightening. Customize outfit, skin tone, and dog accessories for a sweet fashion illustration to be cherished for years to come.
If you would like me to customize your pet's coloring or markings, email a few photos to me at theprintsprincess@gmail.com upon ordering and I will work my magic!
All prints are created in my studio using beautifully textured cold pressed watercolor paper and archival ink. Additional sizes are available upon request. Take your puppy love a step further and apply the design to our stationery, pillows, towels, mugs, totes, jewelry - the sky is the limit!

Have more than one fur baby to celebrate?! Let's have a puppy party! Click here to add up to four additional pets to this item! 
Make your solo parent print a duet! Click here to add a second person. 
All of my designs are protected by federal copyright laws, but I am happy to grant rights to print for personal use! I love cheering on my fellow tech savvy DIY'ers! If you're up for playing around with printed goodies or using my works in your blog or website, please add this agreement to your order.